A New Year's concert is an exciting event. If you are in charge of organizing such an event, make sure you attract potential customers with creative ticket designs. Eye-catching digital tickets can be an effective marketing tool.
Here are some creative ideas to create tickets that stand out.
Vibrant Designs
The New Year is an occasion to celebrate. So, it is a good idea to design New Year concert tickets that are vibrant. Use a bright color scheme and appealing visual elements. However, make sure the colors you select don't overshadow the textual information, such as the timing and venue of the concert. This is important information that should be displayed prominently and clearly.
Musical Images
You can gain the interest of music enthusiasts through images related to the field of music. Add some cool pictures of performers, musical instruments, or other similar images. If you don't have the budget for professional photography, you can find free, high-quality images on several websites that offer royalty-free pictures. Through such images, you can create attractive New Year concert tickets.
Animations
If you are creating a digital ticket, you can make it more attractive with the help of animations. These also help make your ticket more interactive. For instance, falling confetti or circling music notes can add an engaging element to your New Year concert tickets, making them mesmerizing.
Interactive QR Codes
You can make your tickets truly stand out by inserting a special QR code that leads to an interactive soundtrack or a popular song from a famous artist. It will add a creative element to your ticket that your audience will appreciate.
Scratch-and-Reveal Elements
Another feature that can make your New Year concert tickets stand out is a scratch-and-reveal element. This can be added to physical copies of your tickets. Customers will be eager to get their hands on these tickets to unveil the special element. They can scratch to reveal a special message or information about the concert. It's a creative idea that will make your New Year's concert tickets stand out.
Online Templates
Whether you are creating a digital ticket or a physical copy, a creative design takes a great deal of effort and time. In addition, you also need digital design expertise and skills for the perfect design. If you don't have design skills, you might need to hire a specialist. As a result, you will need to set a high budget for the design of your New Year concert tickets. However, there is a more economical solution to make your job easier. Use online templates to create your tickets. These are designed by professionals. All you have to do is add your customized details.
Final Thoughts
Designing New Year's concert tickets is fun and interesting. You can use your creativity to make your design stand out. However, the job requires skill and effort. To make your job easier and more cost-effective, you can turn to free template designs and create the perfect New Year concert tickets.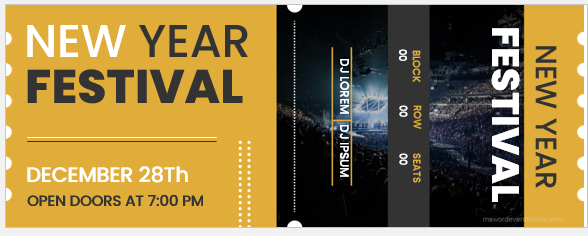 Event Ticket File Size: 2 MB

Event Ticket File Size: 2 MB

Event Ticket File Size: 2 MB

Event Ticket File Size: 2 MB

Event Ticket File Size: 2 MB

Event Ticket File Size: 2 MB

Event Ticket File Size: 2 MB

Event Ticket File Size: 2 MB

Event Ticket File Size: 2 MB
Event Ticket File Size: 2 MB

Event Ticket File Size: 2 MB

Event Ticket File Size: 2 MB

Event Ticket File Size: 2 MB